Many consider the Galaxy S6 and the Galaxy S6 edge to be the most beautiful smartphones Samsung has ever designed. You might as well say that they're among the most good-looking phones currently on the market. Meticulously crafted out of glass and metal, they make heads turn with their visual appeal.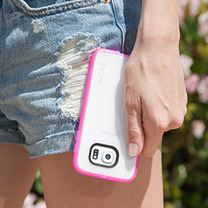 And it would be a pity if all that beauty is obscured by a protective case, don't you agree?
The solution to the problem is to get a clear protective case for your Samsung Galaxy S6. Such a case would provide sufficient protection against accidental damage, all without hiding the elegant design of Samsung's handset. And thankfully, there's plenty of transparent Galaxy S6 cases to pick from already. Here are the best clear Galaxy S6 cases money can buy right now, along with some awesome models you'll be able to buy really soon.