Google has made it official. As expected, the tech titan has introduced its Project Fi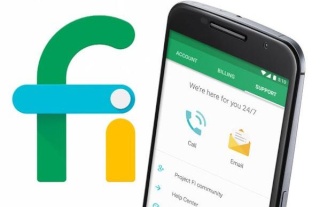 MVNO that will offer consumers wireless service in the U.S. using cellular networks belonging to Sprint and T-Mobile. In addition, Google will also use Wi-Fi networks when available. New technology devised by Google will connect subscribers to the fastest network possible at any given moment, regardless if it is a Wi-Fi connection or a cellular one.
The service will choose from more than 1 million Wi-Fi hotspots verified as being "fast and reliable" by Google. Once connected, the signals will be encrypted. Calls will be seamlessly handed over from Wi-Fi to cellular. Customers' Project Fi phone numbers are stored in the cloud, so they can be used on any device that supports Google Hangouts.
The only phone that will be offered to subscribers is the Motorola-built Nexus 6. When using a cellular network, the phablet will use a special technology that will connect to either a T-Mobile or Sprint signal depending on which one is stronger at the time. The handset will be available in the "Midnight Blue" color with either 32GB of storage or 64GB of memory. You can pay for the phone at one time, which works out to $649 or $699, respectively. There is an option that will allow you to pay $27.04 monthly over 24 months for the 32GB model, or $29.12 a month over 24 months for the 64GB version. A credit check is required with this option. Those already sporting a Nexus 6 can use it with Project Fi simply by inserting a special SIM card into the phone.
According to reports, Google has promised Sprint that traffic coming from the MVNO would not go over a certain metric. If that figure is exceeded, Sprint will have the right to renegotiate its contract. As for T-Mobile, not all of the carrier's features, like HD Voice or Wi-Fi calling, will be available to Google's MVNO users.
Google will charge $20 a month plus taxes and fees for unlimited domestic voice and texting, unlimited international texting, low-cost international calls, Wi-Fi tethering and coverage in more than 120 countries. Data will cost $10 per GB with overages billed at the same rate. At the end of each month, you are credited in dollars and cents for any unused data.
Right now, the only way to become a customer of Google's MVNO is via an invitation. You can request one by checking out the Project Fi website, which you will see by clicking on the sourcelink.
google wrote:Helping you get the highest-quality connection
Project Fi aims to put you on the best network wherever you go. As you move around, the best network for you might be a Wi-Fi hotspot or a specific 4G LTE network. We developed new technology that gives you better coverage by intelligently connecting you to the fastest available network at your location whether it's Wi-Fi or one of our two partner LTE networks. As you go about your day, Project Fi automatically connects you to more than a million free, open Wi-Fi hotspots we've verified as fast and reliable. Once you're connected, we help secure your data through encryption. When you're not on Wi-Fi, we move you between whichever of our partner networks is delivering the fastest speed, so you get 4G LTE in more places. Learn more about our network of networks.

Enabling easy communication across networks and devices
Project Fi works to get technology out of the way so you can communicate through whichever network type and device you're using. Wherever you're connected to Wi-Fi—whether that's at home, your favorite coffee shop or your Batcave—you can talk and text like you normally do. If you leave an area of Wi-Fi coverage, your call will seamlessly transition from Wi-Fi to cell networks so your conversation doesn't skip a beat. We also want to help phone numbers adapt to a multi-screen world. With Project Fi, your phone number lives in the cloud, so you can talk and text with your number on just about any phone, tablet or laptop. So the next time you misplace your phone, you can stay connected using another screen. Check out how it works.

Making the service experience as simple as possible
Project Fi takes a fresh approach to how you pay for wireless, manage your service, and get in touch when you need help. We offer one simple plan at one price with 24/7 support. Here's how it works: for $20 a month you get all the basics (talk, text, Wi-Fi tethering, and international coverage in 120+ countries), and then it's a flat $10 per GB for cellular data while in the U.S. and abroad. 1GB is $10/month, 2GB is $20/month, 3GB is $30/month, and so on. Since it's hard to predict your data usage, you'll get credit for the full value of your unused data. Let's say you go with 3GB for $30 and only use 1.4GB one month. You'll get $16 back, so you only pay for what you use. Get all the details about our plan.

Be part of the project from the start
We're beginning Project Fi's Early Access Program to invite people to sign up for the service. Project Fi will be available on the Nexus 6, which we developed with Motorola and is the first smartphone that supports the hardware and software to work with our service. If you live where we have coverage in the U.S., request an invite at fi.google.com to get started.