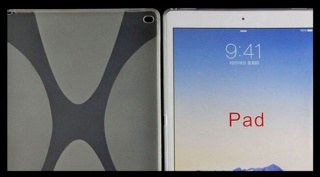 We already have the information with us that Apple will going to launch a large display tablet known as Apple iPad Pro which is specially designed for the business and educational community but not restricted for these two categories. The upcoming iPad Pro has 12.9 inches bigger display and ready to give the big challenge to Microsoft Surface Pro 3. The previous leaks suggest iPad Pro will have 4 speakers and will come with Stylus which will be sold separately.
Previously heard a lot about the device but all are the based upon the leaks. Now we have new information with us. The new case images were leaked and give us some more clues about the design of iPad Pro. According to the leaked information the case contains 2 cuts on top and two appeared in the bottom of the case which shows Quad speakers and the upper two cuts for giving the connecters.
The upcoming "iPad Pro" has a thin bezels but the tablet is thick than iPad Air 2 and thin than iPhone 6 Plus. The Apple A8X chipset will be placed inside the tablet which is already being used for iPad Air 2 and in the speed the chipset is 55% faster than A8 chipset which were placed inside the iPhone 6 and iPhone 6 Plus. Well now we only have these information with us when we have another piece of information we will surely share with our valued viewer.